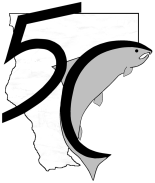 Five Counties Salmonid Conservation Program (5C)
The primary 5C goal is "to strive to protect the economic and social resources of Northwestern California by providing for the conservation and restoration of salmonid populations to healthy and sustainable levels and to base decisions on watershed rather than county boundaries."
www.5counties.org
---
---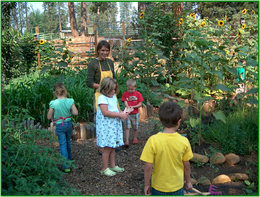 Children's Garden Project
It is the mission of the Children's Garden Project to provide young children with opportunities to learn about health and nutrition, to actively participate in caring for their own garden and to gain first-hand sensory experiences of the natural world. Proper nutrition and physical activity can promote the social and cognitive development of young children, improve a child's readiness to learn, and help to protect against the overweight and obesity problems that are now epidemic across the nation. Educational field trips to the gardens are open to children 5 years of age and under and their families. Funded by a grant from: First Five Trinity County Trinity County Children & Families First Commission through Proposition 10, a voter-approved initiative that generated funds through a tax on tobacco products to improve outcomes for young children. The Council is very grateful for the First 5 funding and makes very efficient use of those dollars. However, the garden suffered a few setbacks from theft and pests last season that the Council is still in the process of overcoming with its current limited resources. The Council would gladly accept donations to help reinvigorate the Children's Garden Project. Find us on
facebook
.
The Children's Garden Project 2018 season will start in late April. Please check back for updates!
---
---
Weaverville Community Garden

| | |
| --- | --- |
| | The Council sponsors the Community Garden in Weaverville in partnership with Trinity County. Primary among the goals for the garden is to encourage as many local individuals and households as possible to grow their own food. Individuals and families that reside in Trinity County are welcome to become garden members and use a plot for personal production of vegetables, flowers, and fruit. The growing season is typically early March through Thanksgiving. The garden is located adjacent to Lowden Park. For more information, please contact us by clicking on the Contact Us mail icon at the top right of this page or by calling us. |